Autel AP200 Bluetooth OBD2 Scanner Code Reader with Full Systems Diagnoses, AutoVIN, Oil/EPB/BMS/SAS/TPMS/DPF Resets IMMO Service for Family DIYers ABS SRS ABS SRS ABS SRS ABS SRS ABS SRS ABS SRS
Autel MaxiAP AP200, running with one IOS phone or Android phone via bluetooth, is an ideal all- system OBDII Diagnostic & 19 service reset tool for home use. A nice feature is it comes with one free car diagnostic sofware that you can freely download after login, and freely pay more as you like. Autel MaxiAP AP200 is a simplified version of Autel MK808 and Autel MX808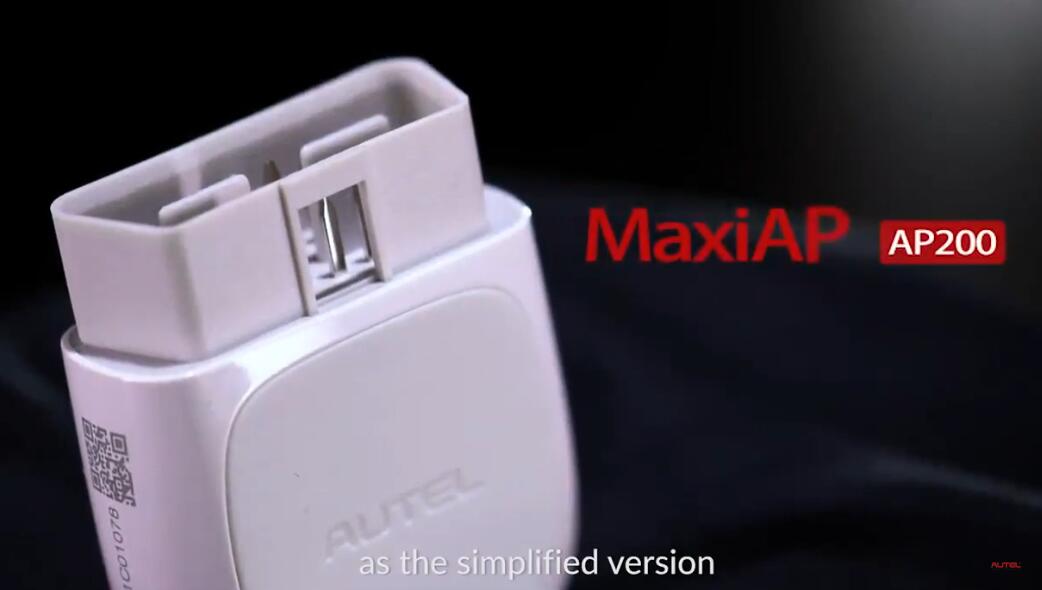 How to Use Autel MaxiAP AP200 on IOS/Android?
1. Download and Install APP
Search for MaxiAP AP200 in Google Play or APP store to download and install the APP to your device.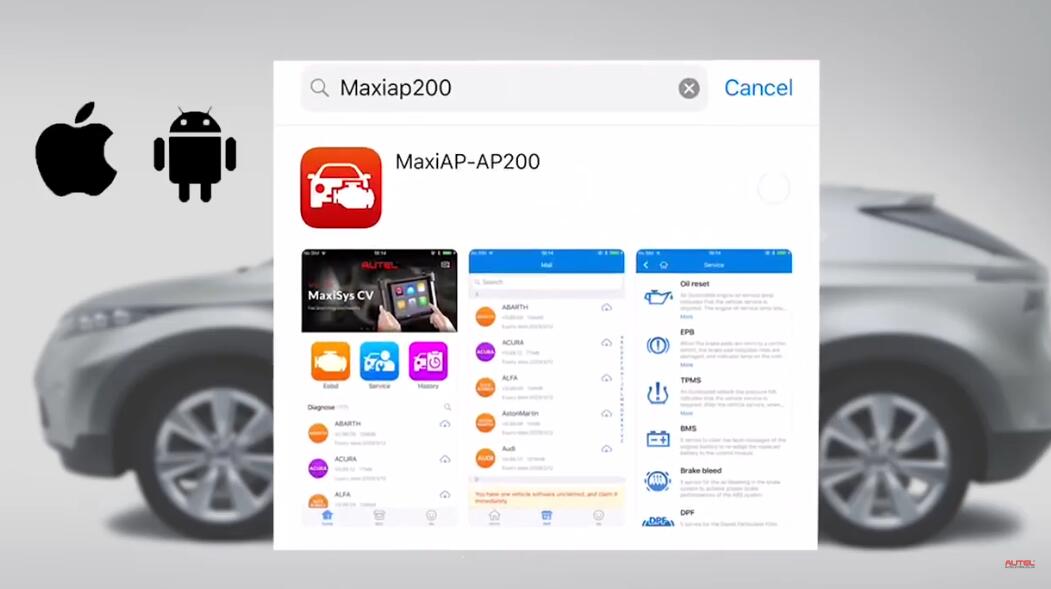 Or scan the QR code to download the MaxiAP200 APP.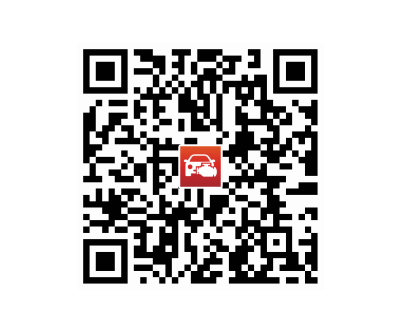 2. Register and Log in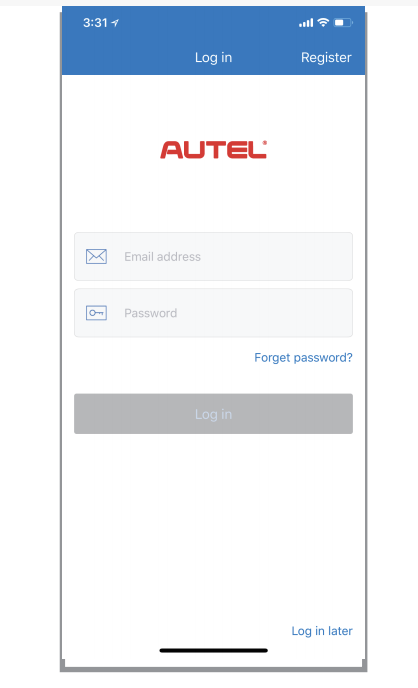 1) Open the MaxiAPP200 APP and tap register near the top right of the screen.
2) Follow the on-screen instructions to complete the registration
3) Log in with your registered email address and password.
Note: If you have a previously created Autel ID, please use it to Log in.
3. Bind VCI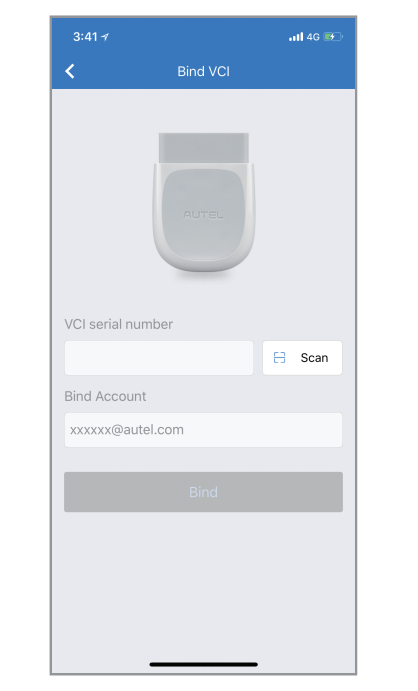 1) Tap Me -> VCI Management.
2) Scan the QR code on the MaxiAP AP200 bluetooth dongle to put in the serial number.
3) Check if the email information is correct.
4) Tap Bind to Bind VCI.
4. Purchase and Install Software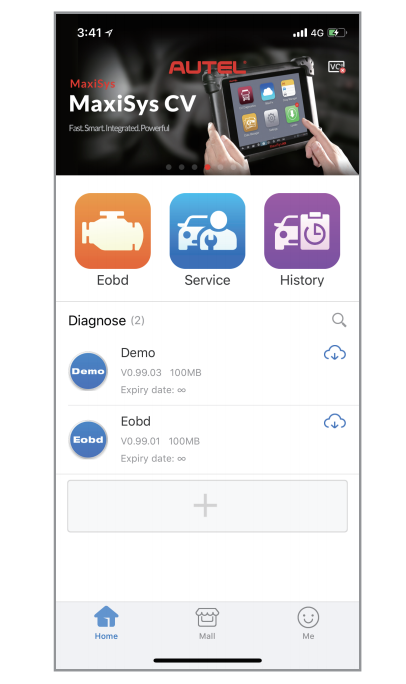 1) Tap Mall or the plus sign below the diagnose list to purchase and install vehicle-specific software.
2) Full OBDII functions included at no charge.
3) You can get one free vehicle-specific software through Mall after successfully binding VCI for the first time.(For iOS devices, the purchased vehicle-specific software will display in the diagnose list. tap it to another application for diagnosing.)
5. Plug the connector of the MaxiAP200 tool into the vehicle's data link connector (DLC)
The Vehicle's DLC is generally located under the vehicle dash.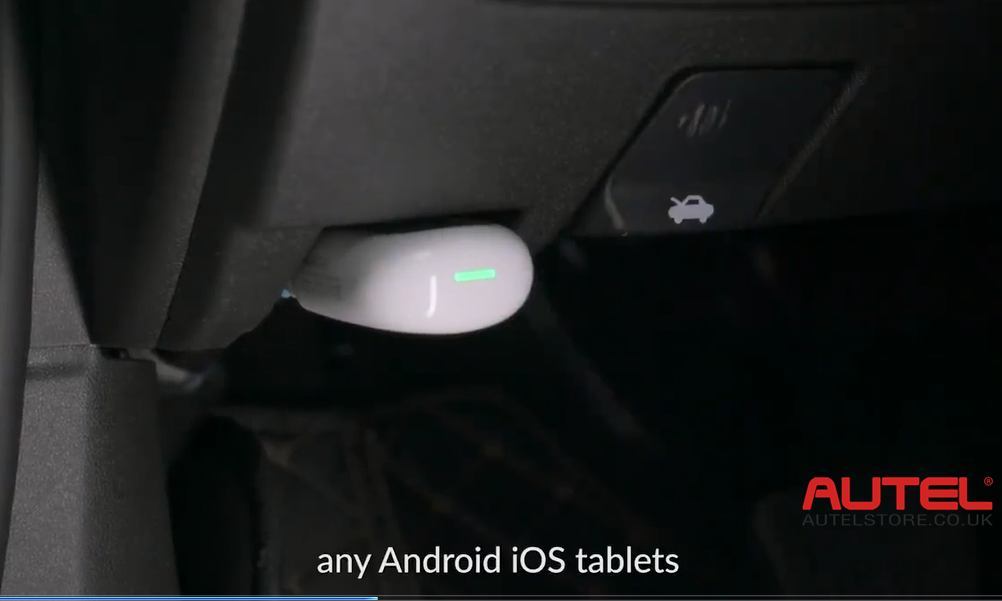 6. Turn the vehicle ignition to Key On, Engine Off position.
The LED on the tool will light solid green when connected.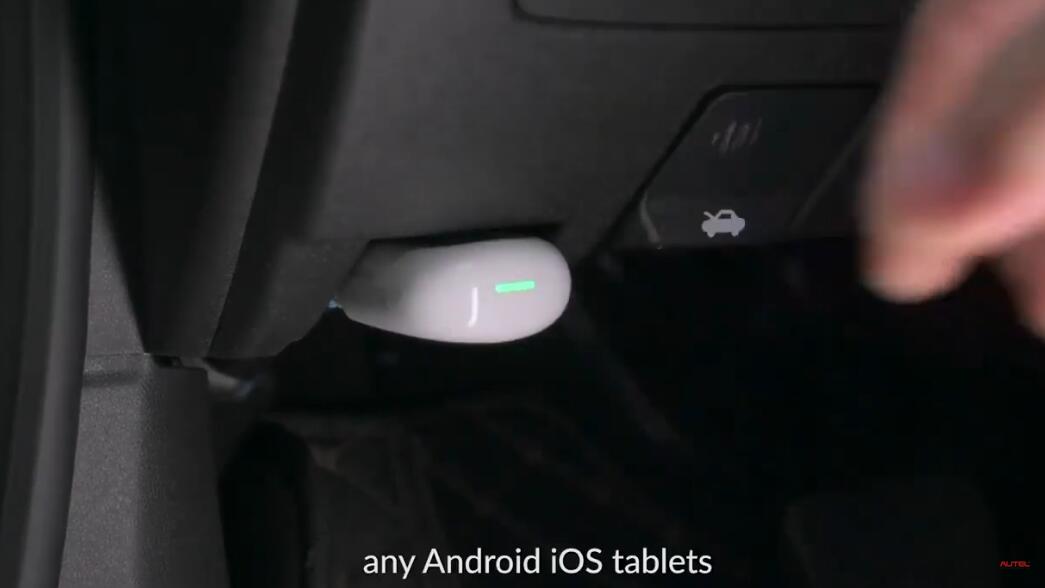 7. VCI connection.
1) For android devices, tap Me -> VCI connection or the VCI Button near the top right of the Home screen.
2) For IOS, Tap Setting -> Bluetooth of your IOS device to open the bluetooth function.
3) Tap the Bluetooth name of the MaxiAP AP200 tool to pair it with the device.
The Bluetooth name starts with AP, folled by the serial number of the tool.
4) Ensure your Android devices' bluetooth is turned on.
5) When the device is successfully paired with the tool, the LED on the tool will light solid blue.
6) Check if the communication status turns to VCI connected. Tap Done near the top left to return to the Home screen.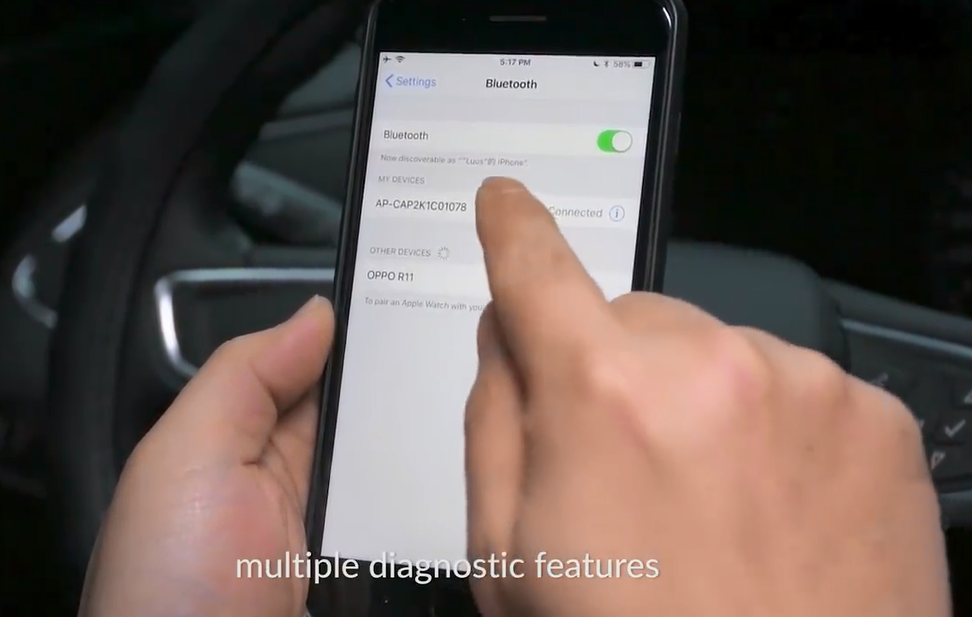 8. Your MaxiAP200 APP is now ready for use
Update:
1. The installed vehicle-specific software can be seen on the Home Screen. When a new version is available, an update button will display. Tap the button to update the software.
2. Tap Me -> VCI Management -> Detect firmware to update the firmware if a new version is available.
Print
1. For iOS devices, the saved report can be printed via the Print function on the device.
2. For Android devices, download and install a third-party Print app to print the saved report
Note: The device needs to be connected with a printer to print