VAS5054A VS VAS6154
VAS 5054A adapter is the best one with Windows 7 32 bit operating system.
Vas6154 original is newer than vas5054 but clone vas6154 is worst than vas5054a clone.
VAS6154 Clone is a VX Diag Nano (for different cars) with crippled firmware which emulates a VAS5054a. The Software of the VAS6154/VX Diag Nano also shows a Date with end of subscription in 2020! I think after it, it will not work anymore.
It emulates the VAS5054a so bad, that you can not or should not flash any flash files with it. Also you have to choose at installation of ODIS, that you have a VAS5054a, and this only works under Win7.
If you have Win7/10 and choose VAS6154 the VAS6154 clone will not be recognized because it emulates a 5054a.
The Problem on your car is, that Odis maybe needs online connection for coding (had this already on a 2016 VW Polo!) you must try. Maybe a VCDS Clone can still help you, but best is, if you buy VAS and VCDS.
Sometimes when one of the tools can not help you anymore, the other one can.
For VAS5054a:
I owned 5 or 6 VAS5054a Clones + 1 VAS6154 Clone total in my life. Some of them broke, some of them I selled to other friends who wanted to have ODIS in their Workshop. And i have always one as backup at home if one gets broken.
vas5054a does not give coding information of ecus like vcds does when retrofitting (steering wheel paddles, warning and paddle lights, keyless start, keyless entry, bluetooth, back up camera, ADS, 7/13 pole harness kit for trailer etc) or enabling features (battery meter, efficiency, lap timer, tpms, screen RS, etc) all of which I have done with VCDs (apart from enabling parameter for keyless entry). I was the first who disclosed on cartechnology how to enable keyless entry on Audi's using obdlink-sx usb and a third party program (not VCP). My dealer had no clue. Charged me for 3 hours to enable keyless entry without success.
Different Between VAS5054A and VAS6154:
1.Communication way:
VAS 6154a communicate via USB,Wifi
VAS5054a communicate via USB, bluetooth
2.Vehicle Models Coverage:
VAS6154 vehicle compatibility: VW Audi Skoda vehicles from 2000 year to the newest & future car models
VAS 5054 vehicle compatibility: VW Audi Skoda vehicles, for Seat Bentley Lamborghini, only VAS5054A interface running with VAS-PC V19 software can work.
3.Firmware / PCB built:
VAS6154 has a upgraded hardware compare with VAS 5054A. Bellow are VAS 5054A PCB and VAS6154 PCB.
4.Remote programming:
To perform remote programming by running VAS-PC software, you go for VAS5054A or VAS5055 head is good choice.
To perform OBDII diagnostic and online programming, you go for VAS 6154 head clone.
The following is the direct software installed on the computer, you can operate directly.
1. VAS 5054A With OKI Chip VAG Diagnostic Tool ODIS V7.1.1 Plus Lenovo X220 Laptop Ready to Use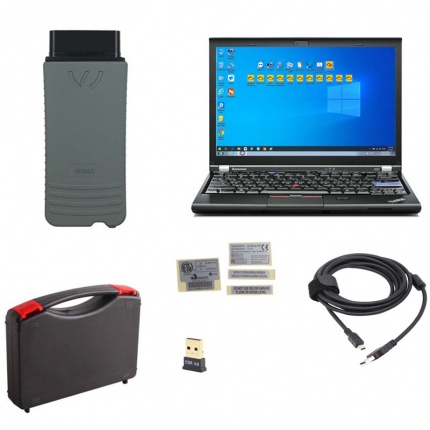 2. Newest VAS 6154 VAG Diagnostic Tool ODIS V7.1.1 Replace VAS 5054 with Dell D630 Laptop 500G SSD Ready to Use