BMW Diagnostic Tool Super MB PRO N3+, Super MB PRO N3, BMW ICOM Next, ICOM NANO or VXDIAG VCX SE BMW ICOM? Check brief comparison below:
1. Super MB PRO N3+ vs. Super MB PRO N3 vs. ICOM NEXT
Super ICOM Pro N3+ is a new BMW diagnostic tool. It's the upgraded version of the BMW's special inspection device A1, A2, A3 and N3. It's 100% compatible with the original BWM special inspection software without any software changes, and added J2534 and DOIP. What's the difference between them? What's new of N3+? Check the detailed comparison below.
New BMW Super MB PRO N3+, compared to N3 and BMW ICOM Next, what are their differences? Here we will show you.
Super MB PRO N3+ vs. Super MB PRO N3 vs. ICOM NEXT:
| | | | |
| --- | --- | --- | --- |
| Item | Super MB PRO N3+ | Super MB PRO N3 | BMW ICOM NEXT |
| Image | | | |
| BMW Full-System Diagnosis | √ | √ | √ |
| BMW Programming | √ | √ | √ |
| BMW Coding | √ | √ | √ |
| BMW Hidden Functions Activation | √ | √ | √ |
| BMW Motorcycle | √ | √ | √ |
| J2534 PassThru | VAG/BENZ/TOYOTA/HONDA/JLR/GM GDS2 | × | × |
| BENZ DOIP | √ | × | × |
| VAG DOIP | √ | × | × |
| JLR DOIP | √ | × | × |
| BMW Mobile Software | MHD,Bimmercode,Bimmergeeks | × | × |
| Wi-Fi | Direct Connection | Direct Connection | Router |
| USB Cable | √ | √ | × |
| LAN Cable | × | × | √ |
2. BMW ICOM Next vs ICOM NANO vs VXDIAG BMW
(1). ICOM Nano
ICOM NANO is the new diagnostic unit for BMW. It's wireless. Very small size.
Support E series with INPA, F series and G series diagnostic with E-sys.
Drawbacks:
Can't connect to a hotspot like ICOM NEXT
Just available alone on a separate Wifi
NcsExpert not connected
only for diagnosing, it risky for programming
F series is Only available for body coding.
After all, there was a reason why ICOM NEXT was expensive.
(2). BMW ICOM Next
ICOM Next Benefits:
1. Wireless diagnosis connection
2. Ease of use in a shop with multiple active connections
3. Self-hosted DHCP server for ethernet programming
There are different ICOM next clone multiplexers on the aftermarket. All high-quality ICOM Next clones are discontinued due to a lack of chips. Only the ICOM Next using VXDIAG solution is available. So it is a VXDIAG BMW with ICOM Next case indeed. Let's move to VXDIAG ICOM.
(3) VXDIAG VCX SE BMW ICOM
For those with the VCX DoIP:
No need for DHCP server or router, it's build in.
– WiFi, LAN, USB, Type C to USB, DoNET remote multiple connection ways
– Firmware update is available via VXManager.
– For connection with ista-p you need to download BMW ptt driver from VXDiag, start Pass-Thru app in VXManager and emulate by loading dll. Make sure its set to SAEJ2534
– For connection with ista-d you need to set connect via icom/ethernet local network in ista settings.
If your license is valid you can also use cloud software
– For connection E-sys sometimes ZGW is not detected on first try, select connect via icom/ethernet tcp://:50160 than close connection. Now ZGW is available and connection can be made via vin or gateway url.
In Sum:
Super ICOM Pro N3+=BWM special inspection+J2534+DOIP+WIFI
It covers all functions of N3, and both of them adapt original ICOM solution which allows firmware update from ICOM server. ICOM Next is a specific BMW dealer level diagnostic scanner. The clone uses different solution, so it cannot scan non-OBDII older models or motorcycles.
Besides, N3+ also supports both DOIP and J2534, and has a one-key switch button to freely switch between ICOM software and J2534/DoIP software.
J2534/DOIP Function Notices:
1.Mercedes J2534 function requires activation (free activation before 10-01-2023)
Software to switch to J2534/DOIP.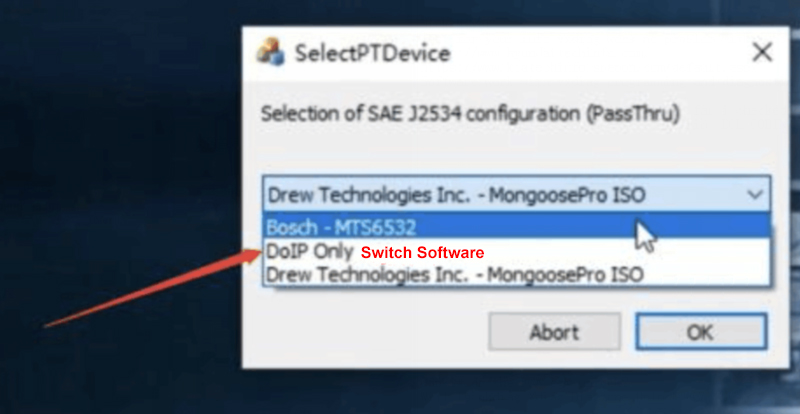 After switch, MB SD Xentry is available.
2.J2534 function on Honda/Toyota/GM GDS2/VAG is free to switch
Passthru driver is required, and here we use driver of Mongoose.